In Memoriam Paul Darragh 1953 - 2005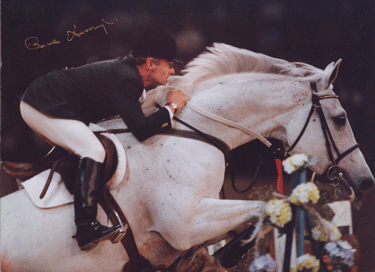 By Michael Slavin

Paul Darragh

"True team player", "born motivator", "brilliant rider", "fantastic
competitor", are just some of the phrases being used in recent days by
his own team mates to describe international show jumper Paul Darragh,
who tragically died on Monday evening last. Of him Capt. Con Power says,
"you could never be sure you had won an event until Darragh had jumped".
There is an anecdote from the British circuit that goes with Con's
comment - on one occasion the great Liz Edgar rushed up to the rider
box with her groom in tow to ask "is Paul and P.J. Carroll clear?". When
told yes she turned to the groom and said "in that case we had better
put our horse away".
Such was the talent of Dublin born, Tara resident Paul Darragh that
during his scintillating 35 year career he won four Junior European
medals; took the Hickstead Derby, was first in 10 major international
Grand Prix events, crowned Irish Champion of 1989 and twice took the
League title. He was capped more than 50 times on Irish teams and with
them shared the winners podium 10 times. Beyond all of that he won the
accolade of "World Speed Champion" for his exploits with the superb
gelding P.J. Carroll on whom he won more than 100 individual classes.
According to legend none of that would have happened except for a hole
in the hedge of the parents Austin and Terry's home at Killiney back in
the early sixties. Alice in Wonderland style, he made his way into the
magic world of ponies and horses in a neighbours riding school and never
returned during his too short time with us.
Having convinced Austin and Terry that this was the life for him, he
graduated to lessons with the great Iris Kellett and on to a winning
career with a pony named Peggie Sue. His first international outing came
in 1969 when he helped the Irish side to Ireland's first ever Junior
European medal as he took silver with Errigal. In 1970 he was on the
bronze medal team and the following year at Hickstead he took individual
silver once more and with Diana Conolly - Carew's Woodpecker II he
joined Charlie Curtis, Marilyn Dawson and Kevin Barry in winning team
gold.
Training sessions with Poland's Colonel Zgorelski and Britain's Harvey
Smith followed until he was gloriously united with Iris Kelletts great
Pele for a 1975 victory in the Hickstead Derby. A marching band paraded
him home to his stables at Kill on that occasion.
Next came his legendary partnership with Jimmy Flynn's fiery mare
Heather Honey. With her he became part of the most talent rich team that
Ireland has ever fielded - himself, Eddie Macken, Capt. Con Power and
James Kernan. These four became as brothers then as they scored three
sparkling Aga Khan wins in a row(1977-1979) and they remained so down
the years since then. Their mentor and spiritual father was Army Colonel
Sean Daly RIP. His son Robert Daly, who was radio commentator along with
this writer on many of Paul Darragh's memorable rounds says of him "we
will for ever miss his finesse, his style and the class he brought to
the sport of show jumping".
Eddie Macken and Paul sparked off each other in the most wonderful and
sometimes hilarious fashion. One time they had a disagreement over
something and Paul in a moment of remorse went to Eddie's favourite pub
in Kells, rang Macken and said "I've bought you a drink, come on down",
Eddie did and the friendship was cemented once more. Having flown back
from Canada for the funeral this week Eddie told the Irish Times "he was
a strong team member that you could always depend on him giving of his
very best and he was brilliant at motivating us all to do the same".
I personally recall a show at the mecca of world show jumping in Aachen
when he won just about all the events he entered and was Leading Rider
of the Show. Afterward he and his wife Jane brought me to a Casino and
taught me how to stay ahead by putting half the first good win of DM's
in ones back pocket while playing on with the rest. This was typical
of Darragh's approach to people - as James Kernan says "if Paul could do
you a turn at all he would do it and that was true of his team effort as
well. Many times I saw him put the team first when he might have had a
chance of winning an early class at a show. No! his horse was saved for
the Cup which was foremost in his mind".
In competition he was an all - rounder. As Con Power notes "It did not
matter whether it was a speed class or a Grand Prix or the Puissance he
went at it with the same style and determination".
In the early eighties Paul had his shot at the Puissance wall on the
giant sized King of Diamonds gelding Carrolls Young Diamond. It won for
him at Olympia and Aachen and was second in Milan. Because of his size
the small stature Paul looked all the more diminutive as he approached
the big wall. This fact may have solidified the name by which he was
affectionately known among the other riders - "Little P". . .
Most of his best Grand Prix wins came in the late eighties and
nineties. With the less than brilliant Trigger he was a long shot in the
Dublin Grand Prix of 1987 but defied the odds to come out a popular
winner.
Killilea then brought consecutive big wins at Franckfurt, London and
Oslo. Cera, owned by his pupil HRH Princess Haya of Jordan was to score
for him at Barcelona, Brussels and Seville, where he won the very
competitive World Cup qualifier.
Also owned by Princess Haya the nimble but headstrong mare Scandal gave
Paul one of his most memorable moments just as his international career
was drawing to a close. It was 1997 and back where it all began in the
Aga Khan at the RDS. Ireland was in a tight contest for the Cup and it
was won only when Paul delivered a hair - raising and never to be
forgotten double clear. Into that effort he poured all the skill and
determination that was his hallmark. He lived among the greats and
matched their prowess. When he won he would always say - "Well ,what
about that!" Indeed Paul - What about that!.